Home > Turkey > Other Istanbul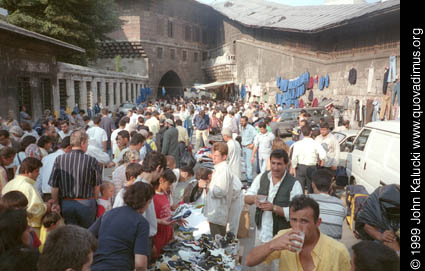 On certain days, however, huge areas around the New Mosque (Yeni Cami) are turned over to what seems to be a sanctioned market for a single item.

It was Back-To-School time in Turkey as we visited. This day the market was in clothes. Nothing but clothes, with a strong tilt towards school duds.

A few more pictures of Istanbul.
My Favorite 20 Images of Turkey
More Istanbul: Aya Sophia Notable Mosques Monuments Topkapi Palace Bosphorus and Golden Horn
Photographs of various scenes around Instanbul, Turkey. istanbul, kapali carsi, covered market, old bazaar, cevahir bedesteni, egyptian spice bazaar, eminonu misir carsisi, trains, pipe garden, fish and cat, new mosque, yeni cami, turkey, islam, photographs, pictures, travel, tourism