Home > Sierra Nevada > Monitor Pass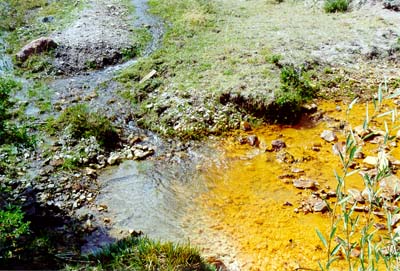 A clean water stream from another drainage meets with the tainted Leviathan water.
The acids used in mining leach the heavy metals out of the tailings in a process known as Acid Rock Drainage. This water flows, largely untreated, into the Carson river in Nevada.
Back To Sierra Nevada, California
Photographs of some of the abandoned mine works near Monitor Pass, Alpine County, California. Leviathan mine, Monitor Pass, Route 89, Morning Star Mine, Morningstar Mine, Markleeville, Alpine county, Sierra Nevada, photographs, pictures, travel, tourism, California