Home > 1993 Laguna Wildfire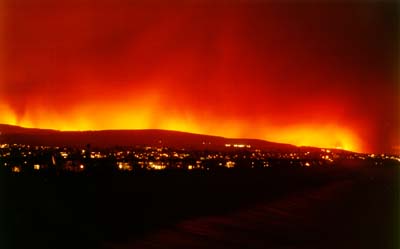 The height of the fire as seen from the Balboa Pier. (~300mm, ~16 sec, f-stop unrecorded, ISO 400) The lights in the foreground are the houses in Cornona Del Mar. The fire line is just behind the Newport Coast ridge at this point.
This picture was not retouched -- this basically how it looked to the naked eye.
This was at about the time when we started considering what we were going to take and what we were going to leave.
Photographs of the 1993 Laguna Beach Wildfire. laguna beach, fire, brush, disaster, balboa, newport beach, newport bay, photographs, pictures, images, california